In this video I'm going to show you 10 simple life hacks with toilet paper rolls.
We all know the obvious use for toilet paper, but what about those toilet paper rolls that you throw away? Stop doing that! Those paper rolls can come in handy.
From pretty packaging for gifts to handy hacks that are guaranteed to make your life easier, here are 10 brilliant toilet paper roll life hacks you don't want to miss!
Types of tools I used:
Disclosure: As an Amazon Associate I earn from qualifying purchases.
Related: DIY Glass Bottle Home Decor – 3 Simple Ideas
1. Create a pretty desk organizer.
This is such an amazing hack. Cut toilet paper rolls to different heights, wrap them in fun papers, glue them on a piece of cardboard and make a cute organizer for your desk.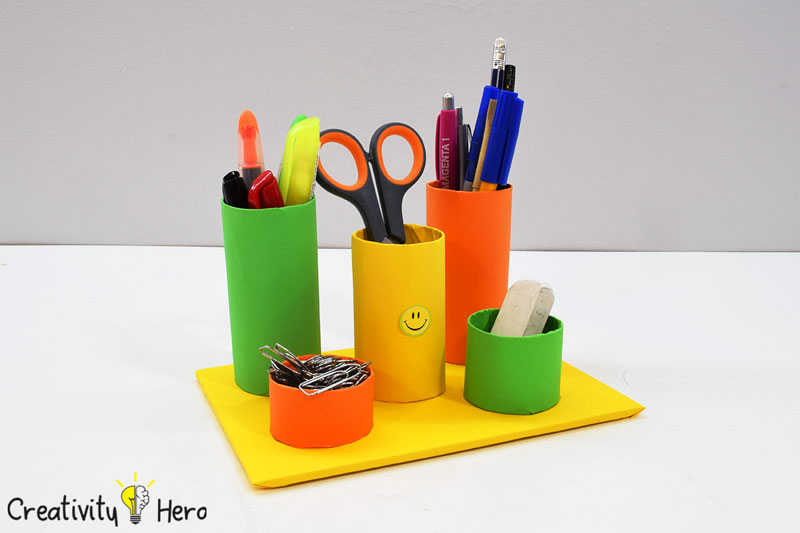 2. Make a functional phone holder.
Although you can always buy a phone holder, it would be nice to be able to create one by yourself. This easy DIY phone holder will ensure stability while taking pictures and recording videos. And it only takes 1 minute to make it.
3. Build a simple desk shelf.
You only need 4 paper rolls and 1 piece of cardboard to make this beautiful desk shelf. It's one of my favorite projects out of toilet paper rolls because it's a space saver and a perfect decoration for my desk.
4. Keep cords organized.
This is a great general hack. Nothing can be more out-of-control than stray cords. When you don't need them, instead of letting them tangle and take up room, use toilet paper rolls to separate them into! You can also make them look much prettier by wrapping them in papers with different colors and mark each one of them.
5. Make a lovely jewelry display.
This project is such a handy craft! Never let your jewelry get disorganized and tangled again with this DIY jewelry display. I made it out of cardboard rolls from paper towels and toilet paper.
The best thing of all is that you can personalize it any way you'd like! I use mine to display bracelets, rings and earrings.
6. Wrap paper in place.
Wrapping paper can cost a pretty penny, and when we use it and toss it aside, the paper tends to unroll, tear and become unusable. So, you want to store it safely so that it doesn't get crumpled in between birthdays or holidays.
Keep wrapping paper in place by securing it around the middle with a toilet paper roll.
7. Create a cute pincushion.
Keep your needles and pins in a pincushion at all times to avoid accidental punctures. This pincushion is very easy to make, all you need is a toilet paper roll wrapped in a self-adhesive paper, and a sponge.
8. Keep socks organized.
Keep your socks organized and untangled by separating them into toilet paper rolls. Add a decorative touch with tape or paper and put your socks inside the rolls.
9. Secure sharp knifes.
If you need to secure sharp knifes and keep them away from your kids, a toilet paper roll and a rubber band is the perfect combination to make a cheap, protective option.
10. Create a pillow gift box.
Create pillow boxes for gifts and small items. Decorate them with scrapbook paper, tape, twine, ribbon or something else to make them look prettier.
That little toilet paper roll can be used for so many amazing DIY projects.
Have you ever used your creativity to make some simple and useful DIYs out of toilet paper rolls? Share your ideas in the comments section below.
Thank you so much for watching! If you like this video give me a thumbs up and subscribe to my YouTube channel.